Q: I just want to share my event (not inviting yet). What's the best way to do it?
A: When you have an active event, simply click the "View the event home" link at the top of the event info tab. It will take you to the event page on heymoffas.com and you will have quite a set of sharing options there waiting for you!
Alternatively, just go to the event page on the main site to share directly from there.
Q: How to deactivate/mute MOFFAS?
A: You can put the extension into a sleep mode with one click.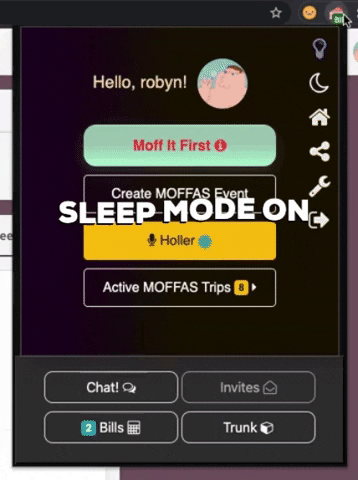 Q: I don't want other people to see my event. What should I do?
A: The setting you should turn to is the "Visible to" options. Choose "Secret" to make it a private group, invisible to non-participants.
Q: I am a Paymaster. What should I do?
A: Thank you for being a paymaster. We are currently working on setting up extra perks to reward paymasters.
As a paymaster, your main job is to check out all the items that belong to your group mates in the MOFAS event cart. You may also bill each member using "Make a Bill" function. Please note, sending out this group bill will make all shopping info public within your group. If your group mates are not comfortable letting others in the group know about their purchases, you should not send it out. You can still use it for calculation purposes for yourself.
Some other suggestions for paymasters:
Keep the event timed and gated.
Inform members when you are about to do a checkout.
Post about package delivery status, if applicable.
Be discreet.
Encourage in-group communication.
Close an event after it ends to avoid potential future confusion.
Q: Why are my hollers flickering?
A: Most likely, you are on a web page that you opened before installing/updating the extension. Simply refresh the page and it's all set.
If you still run into this problem consistently, clear the cache and reopen the browser.
Q: How can my friends and I bundle orders?
A: In order for you and your friends to "cart-pool", you need to create an event where you want to shop.
For example, if you guys want to buy things from xyz.com, simply go to xyz.com and click "create event" from the extension menu. After that, as long as you are in the same event, you guys are sharing one shopping cart, which can be checked out by the group paymaster (admin) later.
Q: Why can't the extension extract information for my item?
A: You need to make sure that you are on a product page.
By default, the extension uses a simple/vanilla algorithm to extract information. We are building a database to improve that for specific websites, such as Amazon, which is already in use. If you have a website you want us to process for better data extraction, submit that by clicking the report button.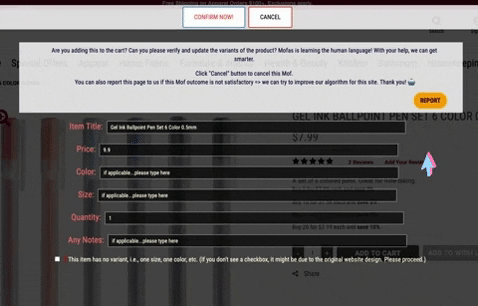 Q: How do I invite my friends to my event?
A: It depends on whether they are already members.
If your friends are already on MOFFAS (registered members), you can just invite them through the event invitation form or add them to the participant list when you are creating the event.
If your friends are not on MOFFAS yet. Invite them to join MOFFAS first.
Q: Why can't I add items to my cart?
A: This version of MOFFAS doesn't detect or track your interactions with the webpages you are browsing. Auto cart-loading is not available in most situations, except for a few testing sites that we partner with.
Therefore, if you are adding items to your shopping cart on the merchant's website, we won't know. To add an item to your MOFFAS event cart, you will need to separately click "Let's MoFf this" from the extension menu or "Let's MofFas that!" from your right-click context menu (the event has to be initiated first though). You should see an overlay window asking you to confirm details about the item you are trying to add. To learn more about how to use MOFFAS, please check out our tutorial videos and manual.